Latest Post
I've stumbled on the side of 12 misty mountains; I've stumbled on the side of six crooked highways
Friday was warm – warmer than almost any day all year. But the drops didn't really start until a big purple storm cell went out of its way to miss every major town within reach and settle instead on Theilman, Minnesota, pop. 2 (editor's estimate).
I've stepped in the middle of seven sad forests; I've been out in front of a dozen dead oceans
LaCrosse-based wunderkid Michael Borst took out the 100 hard on Friday. With him went Joe Boler; not so hot on their heels but sitting steady in third was long-haired Nathan Leehman, from Charlotte, North Carolina, who in September opened the specialty shop Ultra Running Company in December and was spending purportedly his first day off since then running a 100-miler in the bluffs of southeastern Minnesota. Bob Gerenz, who won the duel in the moonlight two years ago, also stalked. On the women's side, April Anselmo (nee Cole) cruised alone.
By lap two, Borst was alone in the lead, but at mile 53, near nightfall, he was visibly suffering at the first aid station of his fourth lap.
"I went out too hard," he said, perfectly cogent but in pain. Indeed, the young gun had inadvertently broken his 50-mile course record, set last year with training partner Jake Hegge, on his first-half split. He would stagger, suffer, walk, drop, then re-enter a few more times, but there would be no sixth lap for Borst in his 100-mile debut. Leehman burst into the lead, tailed by Gerenz, who took significantly less time in the aid stations than the then-leader. But Leehman's gap would remain, then grow slightly, as he used a second-half surge to nab a win and a course record in 20:30:51. Gerenz held on for second in 21:21:04.
Anselmo's only trouble all day came from a heel-nipping local dog that she said (with a convincing menace in her eyes and edge in her voice) she was ready to assault if he continued trailing her. The night shift-working Anselmo dialed in as the sun dropped and won in 23:21:01 – good for fourth overall – while the dog, resigned to the threat of a hundred Zumbro Bottoms coyotes overnight, stayed at the aid station.
Full 100-mile results can be found here.
As late night turned to early morning, 50-milers (who started at midnight) started pouring through. Borst's LaCrosse counterpart Hegge took a commanding and easy lead, and the weather was holding. This aid station captain slinked away for what was supposed to be a 20-minute nap.
I heard the sound of thunder, it roared out a warnin'; I heard the roar of a wave that could drown the whole world
Three hours later, I woke to the sound of…is that hail? I stepped out of the TCRC RV and into a shin-deep puddle. The corps of volunteers had completely turned over while I slept, leaving me with no familiar faces. A Little Ceasar's pizza sat on the aid table, and a bonfire had apparently been started, long enough ago that it was surviving the torrent.
A lot had happened.
Among those things, Hegge was overtaken by Mike Dietz of Wauconda, Illinois, who won in a course record 8:30:07. Hegge held on for second in 8:58:24. More predictably, Leslie Semler of Hermantown led most (maybe all, though moments like the initial burst off the start line are unaccounted for) of the way to win in 10:54:02, over 26 minutes ahead of second-place Molly Pennings, of Culver.
Complete 50 Mile results can be found here.
Not to be outdone, 100-milers adorned the course throughout and were some of the last people standing as the cutoff loomed. The thunderstorm and ensuing wet cold so thrashed the field that apparently only two of 11 runners entered in the Gnarly Bandit Series – of which Zumbro is the first event – are still in the running.
I heard one person starve, I heard many people laughin'
17-milers were the only racers treated exclusively to mud, and the only ones to start their race amidst a thunderstorm. Results are here.
Other notes, or The Skinny, week of general vicinity of March-April 2014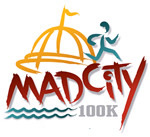 The Mad City 100k, aka the US 100k road championship as designated by that corrupt and/or inept monkey court USA Track & Field, was this weekend in Madison. Of the Minnesotans I know of who went, both were felled by GI issues. Chris Lundstrom was forced to drop at 70k, though Sonya Decker managed a finish before trekking to the hospital next door with severe dehydration. She'd better not repeat this at the next edition of the Decker beer relays, as I hope we can repeat as champs.
Results are here.
Note that five men met the time standard for the IAAF (world) championship. That's some major pressure of prominent folks who skipped the USATF championship race on the assumption they'd get a qualifier elsewhere, because though only one spot was guaranteed out of the USATF race, any performances meeting the IAAF standard are given precedence for US team selection. They take six. So only one fast time outside of this race will make the team.
For the utter irrelevance USATF has in the MUT world, it could help turn things around if competitors started treating national championships like national championships. Most people looking to make a world team probably won't be so casual about it after this year.